Today, more and more companies are competing to do content marketing or to create content to support marketing activities. In fact, to meet customers' and consumers' increasing need for information and education, some companies have specialized teams dedicated just to producing content.
But someone needs to say it: It's not all about the amount of content you publish; you need to create content with clear results in mind. To do that, your content must always be founded on a solid content marketing strategy, strengthened by consumer data and insights, and aligned with your company's business goals.
Content marketing focuses on creating and distributing content that is valuable, relevant, and consistent in order to attract and retain a predetermined audience. The goal is to encourage the consumers to make purchase decisions or other actions profitable to your brand.
Content marketing programs can be presented in various forms: videos, blog articles, podcasts, e-books, newsletters, social media content, etc.
By creating content that is useful, relevant, and consistently appealing to the right audience, and publishing it at the right time and through the proper channels, your brand is more likely to attract maximum benefits. This will set you apart from your competitors.
Your content activity will be even stronger if executed with the right strategy. These are several content forms that may fit your content marketing goals:
Create content to build brand awareness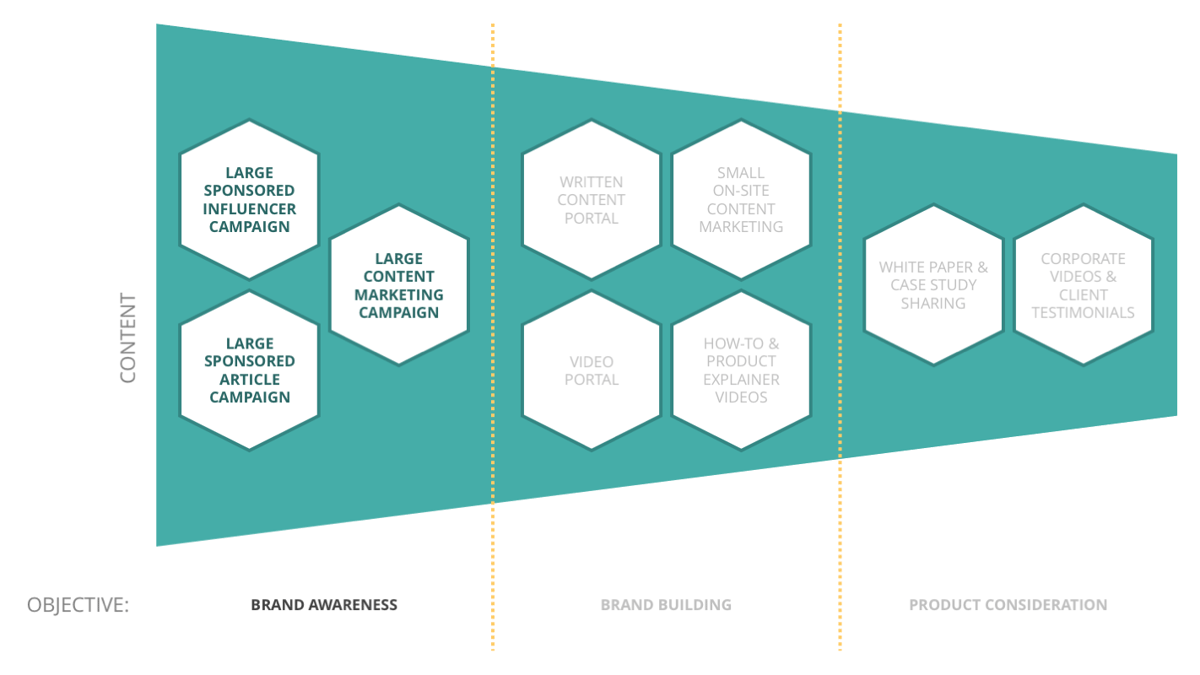 This form of content is arguably the most common one in marketing activities. Survey results from MarketingProfs show that building brand awareness is the main purpose of most business-to-business (B2B) marketing programs in North America.
In this phase, you are not selling a product. Instead, you are introducing a potential problem in your brand category to be solved using your brand's product or service.
In addition to attracting your target audience, content at this stage has two more purposes: one, to build brand perception in a particular category; two, to present positive and inspiring content based on the characteristics you want your audience to know about your brand.
Usually, this phase of content creation involves a large-scale campaign. It optimizes the role of influencers in social media and distributes sponsored articles all over leading mass media.
Create content to build brand reputation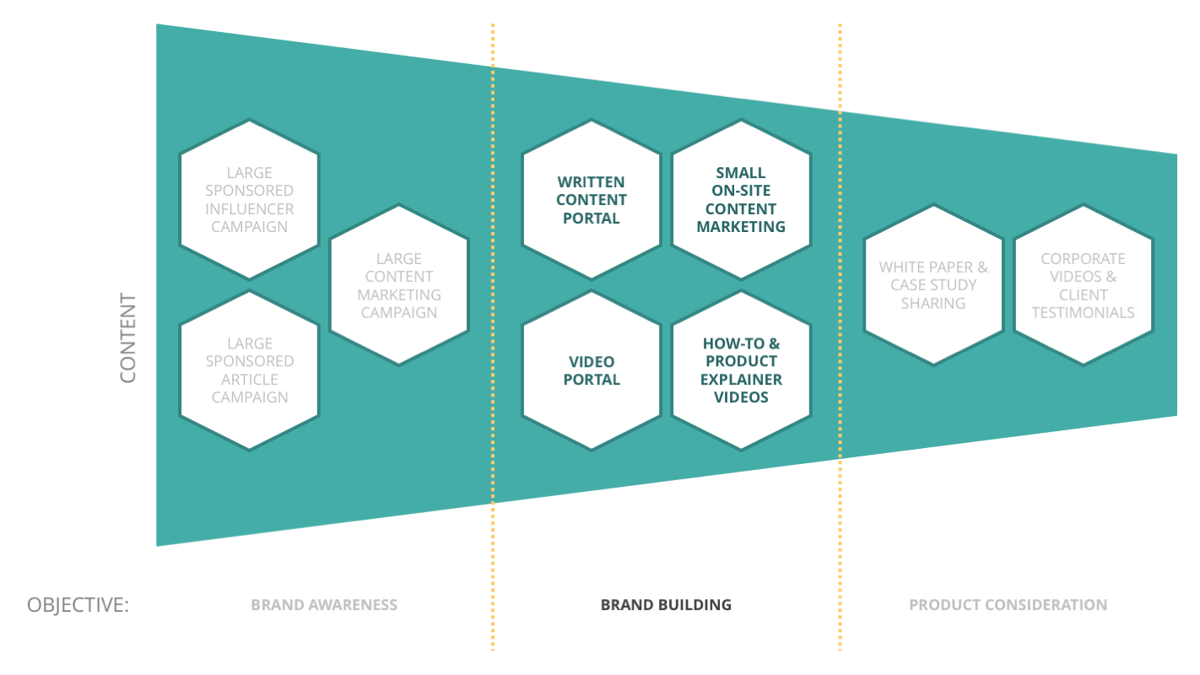 Building brand reputation is a continuous process; it does not involve only increasing your brand exposure instantly. The focus of this stage is value creation--it is one level above content creation for brand awareness.
Done properly, this stage of content creation reaches out to your audience in that it shows that your product or service is part of the solution they need for whatever problem they are facing. The commonly used forms of content marketing at this stage are content portals, on-site content marketing, and video portals.
Create content to drive product consideration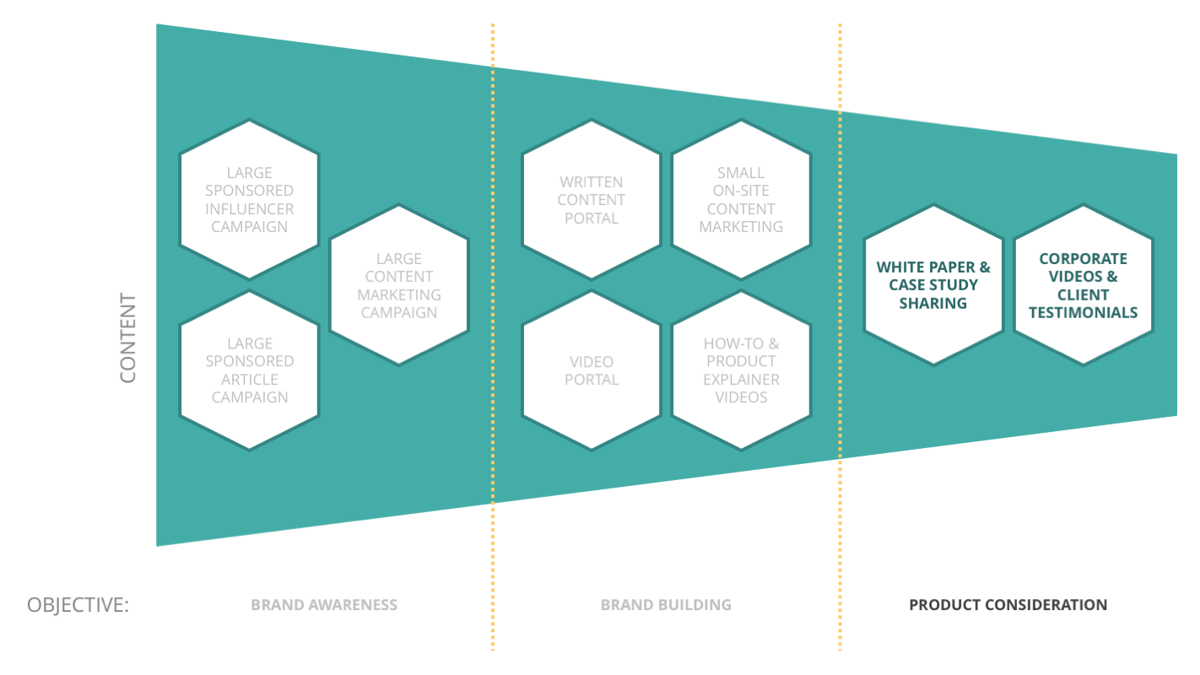 One way to influence consumer purchase decisions is to use the opinions of other consumers who have already used your product or service.
Referring to the International Journal of Trade, Economics, and Finance study (2014), most consumers, prior to making a purchase, consider the advice of other consumers who have already used, or are currently using, the product or service in question.
Appropriately, at this stage, the forms of content that are usually used are white paper, interviews, case studies, how-to videos, and, of course, testimonials.
By applying the above stages, you will have a greater opportunity to attract consumers through content that educates, inspires, entertains, and also satisfies curiosity.
Unlike conventional advertising, this kind of content marketing better ensures that your audience enjoys your content. It does not barrage them with random promotional messages that have nothing to do with their interests and barely touch their emotions.
Your brand should keep developing the customer or targeted audience experience from across the funnel and within the channel, for them to grow stronger over time. It will be a constant challenge and will need quite a lot of experimentation on your content initiatives. This is why it's imperative to run your content marketing strategy based on clearly defined goals.
Our experience has taught us that one of the main challenges in producing content across the marketing funnel is finding the right content producers. This is why we set up our Marketplace, which connects you to more than 4,000 content creators and sponsored content publishers in Southeast Asia.
ALSO READ:
What is Content Marketing? What Type of Content Marketing Campaigns Can I Run?

Why You Should Do Content Marketing and Sponsored Content

10 Creative Ways To Run Branded Content and Influencer Marketing Campaigns